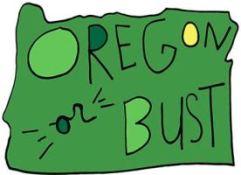 As California today imposed its first statewide mandatory water restrictions, I think of all the people I talk to that are getting out and moving to where there is water, right here in Florence, Oregon or somewhere similar. I recently saw a map produced by one of the universities I believe that did a study showing what they claim is climate changes across the U.S. with different colors representing out of the ordinary events. Whether you believe in global warming or not isn't an issue, the fact is we have been experiencing a climate change that whether natural or man made is changing our world and setting records held since they started keeping records. One of those on the map was the drought hitting the American West, mostly in California, western Nevada, southern Oregon and it foresees a drought worse than the dust bowl of the 30's and think about how many more people this one is affecting.
I said "is affecting" because it's already well on its way. I know this talking to people that live in California and listening to their stories. One client I have told me of thousands of wells going dry in an area of the southern foothills of the Sierra's. The real tragedy is that many of those families with dry wells are NOT reporting it for fear that DHS will take their kids since they are living in homes without running water. It's getting worse, fast!
That map I mentioned showed the Pacific Northwest (The Oregon Coast and Coastal Range, Washington Coast and even Vancouver Island, BC) as the only place in America that's not suffering from this climate change. I can tell you as someone living in Florence that in the last year and a half we have endured... Spectacular Weather! Yes really, ask anyone here.
In this Drought Map you can see here in Western Lane County we are not suffering from a drought. The City of Florence Public Works maintains rainfall records back to 1957. It shows that in January and February 2015 we have over 14.5 inches of rain and I can testify that we've had a lot of beautiful sunny days too.
If you would like to know more about living in Florence call me, I would be happy to tell you more about out community and if you choose to move here I'll help you find that perfect home for you! Start your Home Search here.
If you have a drought story to share, please post it below. Or a story about finding your perfect home here in Florence and how you escaped California. there may be people out there that just want to hear a few good stories before making that final decision.